1000ml Amber glass vessel, Apex (formally known as PEAK) for Teledyne Hanson CD14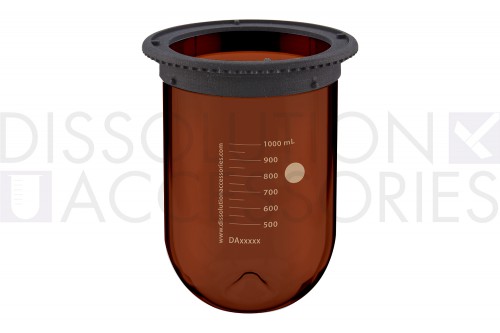 PSGLA9PK-AHCD
1000ml Amber glass vessel, Apex (formally known as PEAK) for Teledyne Hanson CD14
| | |
| --- | --- |
| Product number | PSGLA9PK-AHCD |
| OEM reference | Dissolution Accessories Innovated product |
| OEM | Teledyne Hanson |
| Material | 3.3 Borosilicate glass |
| Volume | 1000ml |
| Color | Amber |
| Vessel style | Round bottom with Apex |
| Instrument Comp. | CD14 |
Key features:
Serial number
Comes with certificate of compliance
Easy-lock
Dissolution Accessories Apex Vessels (previously known as PEAK vessels) are designed to prevent cone formation at the base of the vessel.
The Apex reduces the inherent inconsistencies in the hydrodynamics of standard hemispherical dissolution vessels.
An inverted apex is designed into the bottom of the vessel, displacing the unstirred zone and preventing cone formation.

Apex vessels may represent a better enabler to evaluate formulation options.